Contreras Gallery Website Links







Sylvia Garland . Art - Link






Guest Artist:
Eve McEwen, four paintings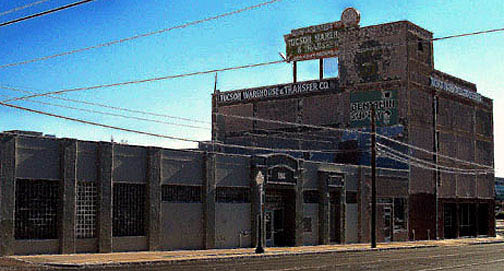 Located in the Historic Downtown Tucson Warehouse Arts District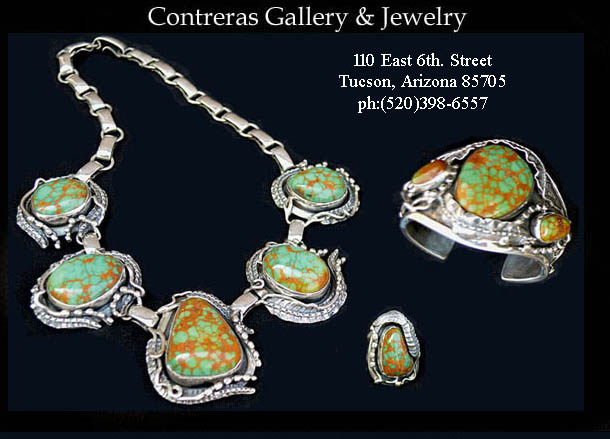 New Hours
Tuesday through Saturday
From 10 am. to 3 pm.
Masks Recommended
Customer Parking available at west side parking lot.
Drive cautiously. Road construction on 6th. Street
Please call ahead before driving over here, to make sure we are here, due toxic fumes coming in, because of road construction.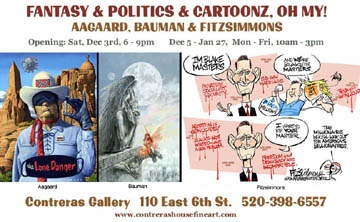 December 3rd. through January 27th.
Gary Aagaard:
Quick Bio : I began my professional career shortly after becoming a Society of Illustrators Scholarship Award winner in 1982. My conceptual cover and interior illustrations have appeared in numerous publications including The Village Voice, New York Times, Los Angeles Times, Newsday, Philadelphia Weekly, Barrons, Oxford American, Business Week, Bloomberg, SF Weekly, Seattle Weekly and Discover Magazine. In addition to my editorial work, I've created book illustrations for Reader's Digest Books, Houghton Mifflin, St. Martin's Press, Harcourt Brace and "Emily and the Ostriches" (Rizzoli Publ.), a children's book collaberation with Dan Bernstein.

Awards & Exhibits: My work has received recognition from the Society of Illustrators (NYC), the Society of Publication Designers, Print, the Society of Illustrators of Los Angeles, Applied Arts and American Illustration. My paintings have been displayed in the Museum of American Illustration, Gallery-Henoch, the Smithsonian, Klaudia Marr Gallery, Xpo Gallery, Mendenhall Gallery, Ward-Nasse Gallery, Gallery Nucleus and was part of the Museum of American Illustration 2000-2001 Traveling Exhibition.
Jill Bauman:
My works have appeared on covers and interiors of a variety of magazines including Weird Tales, Fantasy Magazine, Space & Time, Cemetery Dance, The Magazine of Fantasy and Science Fiction, Fangoria Magazine, Realms of Fantasy, and Amazing Stories.
I have illustrated the written works of authors of horror, mystery, and imaginative fiction such as Stephen King, Harlan Ellison, Dan Simmons, Fritz Leiber, Richard Laymon, Jack Dann, H.P. Lovecraft, Edgar Allen Poe, Clive Barker, Dean Koontz, Robert R. McCammon, Peter Straub and Lilian Jackson Braun, to name a few.
David Fitzsimmons:
David Fitzsimmons is a cartoonist, humor columnist and blogger for the Arizona Daily Star. Fitz is syndicated to more than 700 news publications. A Pulitzer finalist in 1988, his award-winning cartoons have drawn both fire and praise.
He is the staff cartoonist for the Arizona Star, and his cartoons are syndicated worldwide by Cagle Cartoons.