Tucson Silversmiths and Goldsmiths since 1949
A Tucson, Arizona open studio and art gallery, located in the historic Warehouse Arts District,
owned and operated by Neda Contreras and E. Michael Contreras
Every 1ST SATURDAY, a new exhibition showing fine art works, which might include oil and acrylic painting,
pen and ink drawing, sculpture, fine art intaglio prints, and custom handmade jewelry,
which is designed and hand wrought in the gallery studio.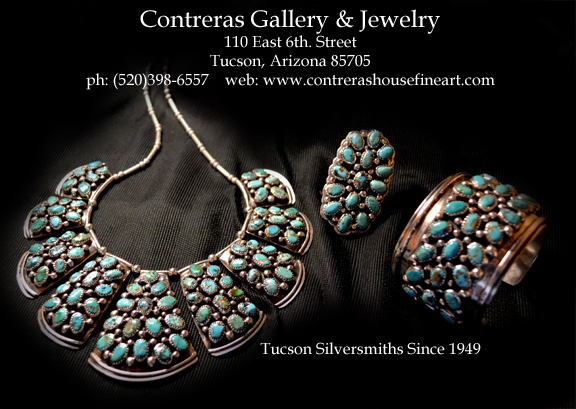 OPEN TUESDAY THROUGH SATURDAY
From 10:00 am.- 4:00 pm.

SPECIALIZING IN CUSTOM HANDMADE SILVER JEWELRY 
AND LIMITED REPAIRS FOR CONTRERAS GALLERY CUSTOMERS
and of course we repair our own jewelry.

USING VINTAGE HIGH GRADE NATURAL TURQUOISE
SAND CASTING MILAGROS
Link to Native American - Indian Jewelry Designs
Sterling Silver Baroque-Botanical Bracelet, Top and Side Views - Natural High Grade Turquoise.
Sterling Silver Ingot Bracelets With High Grade Chinese Turquoise
| | |
| --- | --- |
| SOLD | Bisbee Turquoise - 183 carats |
| | | |
| --- | --- | --- |
| Alberto Contreras Broach with Persian Turquoise | Embossed Sterling Silver Bangle Bracelet | |
| | (EMC) Sand cast bracelets stamped with vintage stamp tools, that were made by Alberto Contreras. | |
| | | |
Silver Choker Necklace With Bisbee Turquoise------------------------------------------------------------------------------------------------ Blue Gem Turquoise Nugget Necklace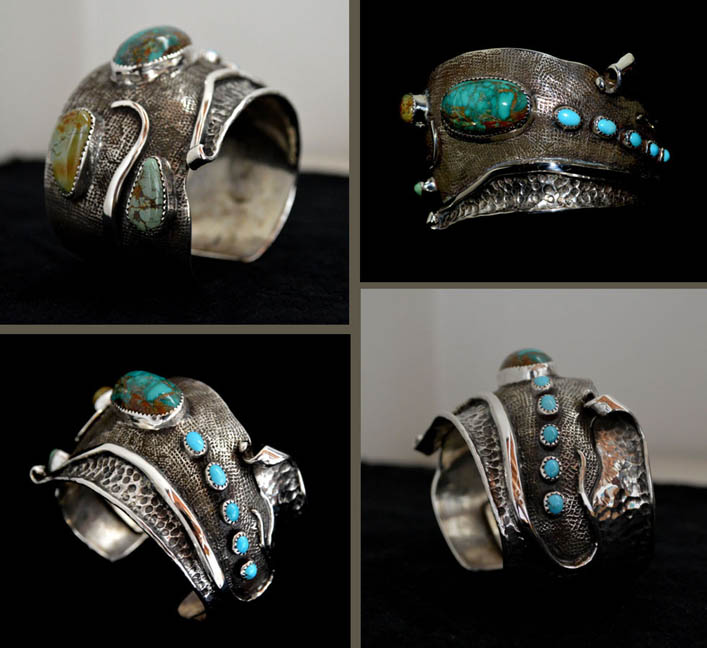 Fox, turquoise, Persian turquoise and Demelle turquoise - four views
Blue Gem Turquoise Bracelet

Bisbee Turquoise Bracelet

SOLD

Sleeping Beauty Turquoise - 18" necklace - SOLD

Carico Lake and Persian Turquoise - SOLD

London Blue Topaz - SOLD

Fox Turquoise - bracelet is 45 cts. - ring is 65 cts.
Sterling Silver Bracelet with Finnish Spectrolite

7 Stone Cripple Ckeek Turquoise Bracelet - SOLD

Sterling silver with Bisbee and Persian Turquoise

SOLD
| | |
| --- | --- |
| SOLD | |
| Lost Wax Cast Buckle with Kingman Turquoise | 2 Shot Tear Bottle - Old Persian Turquoise - SOLD |
| | |
Morenci Turquoise and Persian Turquoise choker
HOME